Maldives
The Maldives, officially referred to as the Republic of the Maldives is an island nation in the Indian Ocean Arabian Sea area, consisting of a double chain of twenty-six atolls, oriented north-south, that lie between Minicoy Island (the southernmost part of Lakshadweep, India) and the Chagos Archipelago. The Maldives is an idyllic place tucked inside deep blue seas, turquoise reefs, white sandy beaches and palm trees. It is a perfect setting to languish on the beach with a cocktail and watch beautiful sunsets unfold in all its glory, while thousands of fish swim around in the vivid corals just a few feet away from where you are.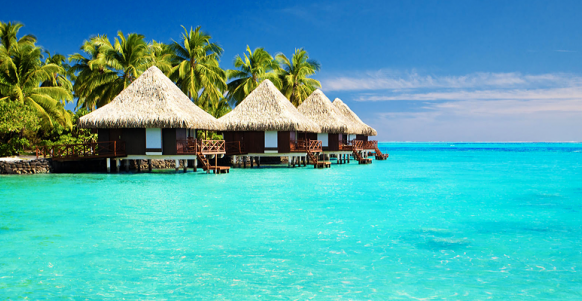 1. Round-trip Economy fare (S-class) and taxes, via Cathay Pacific
2. Hotel Accommodation on preferred hotel based on twin sharing
3. Fun Island:  Full board meals, transfers by speedboat
   Sun Island+Somerset Male: Half-board meals, transfers by domestic flight+speedboat
   Paradise Island:  Half-board meals, transfers by speedboat
   Centara Ras Fushi:  Full board meals, transfers by speedboat
   Sheraton Blue Moon:  Breakfasts, transfers by speedboat
ITINERARIES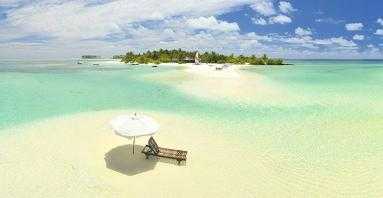 FUN ISLAND
The hotel is located on South Male' Atoll, just 37 km from Ibrahim Nasir International Airport, approximately 45 minutes by speed boat. The island is 700 metres long and 168 metres wide. The property offers a wonderful blend of 'Fun and Sun'. The massive lagoon of the island provides ideal conditions for a variety of water sports and the powder white beaches offer the guests the chance to enjoy the sun and the sand in picturesque settings.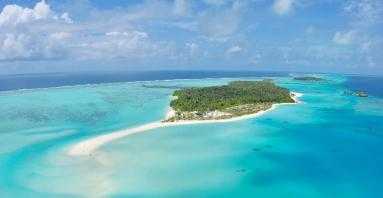 SUN ISLAND
Situated on Nalaguraidhoo, regarded as the most beautiful island of the Ari Atoll in the Maldives, this beach hotel enjoys an idyllic setting immersed in natural tropical beauty. The Sun Island Resort & Spa offers guests a relaxing getaway with much to be discovered. Just 200 metres from the beach, visitors can explore the reef and its cacophony of vibrant colour and abundant sea life.Referred to as the most notable luxury resort in the Maldives the hotel exudes sheer beauty and elegance. Stretching out into the turquoise waters the stunning water bungalows offer guests the ultimate in serenity. There are also a choice of rooms and Suites which are decorated in an attractive minimalist design. Guests will be impressed by the array of first-class dining options and leisure options which set the hotel apart from the rest.
* Rates for Water Villas available upon request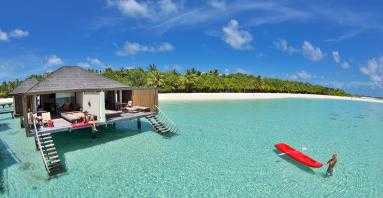 PARADISE ISLAND
The modern beach resort Paradise Island Resort & Spa revels in a stunning location along the famous kilometre long, 200-metre wide island of Lankanfinolhu. Located on the eastern edge of the northern Male Atoll in the Maldives guests will find themselves immersed in paradise, surrounded by tropical plants, palm trees, indescribably beaches and a beautiful lagoon. Lying just 300 metres away the local reef is just waiting to be explored whilst the outer reef for the more confident diver is 10 minutes away. Exuding harmony and intrinsic beauty the location is ideal for guests who are looking for an extra special break.The untouched beauty of the area is contrasted with the endless array of first-class facilities and amenities the resort has to offer. Guests can enjoy various water sport activities or take advantage of the excursions on offer. For those looking for a more relaxing break, rejuvenation is waiting to be experienced in the Spa.
* Rates for Water Villas available upon request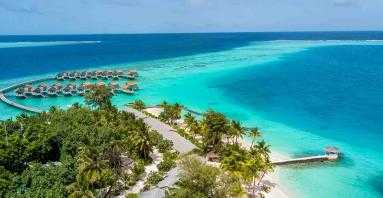 CENTARA RAS FUSHI
Dive into absolute serenity. Less than 20 minutes away from Velana International Airport by speedboat, set on a pristine island blessed with tropical beauty in North Malé Atoll, Centara Ras Fushi Resort & Spa Maldives is an adults-only retreat that is ideal for couples and honeymooners. 
Light and airy villas with wooden flooring and natural fabrics provide sensational views of the Indian Ocean and offer the choice of beachside or overwater accommodation. Pure white sand and a sparkling blue lagoon make this a perfect playground for beach games, snorkelling and water sports, while the magical underwater world of some of the top dive sites in the Maldives are reached within less than half an hour by dhoni. 
Exciting dining with a choice of dining programmes, along with a sublime spa, make this intimately scaled resort a haven for those seeking a tropical escape.
As an adults-only resort, guests must be aged 12 years and above.
SHERATON BLUE MOON RESORT
Come and experience the mesmerizing beauty of the Maldives, its turquoise waters and  pristine beaches with Sheraton Maldives Full Moon Resort & Spa. Conveniently located on a private island just 15-20 minutes away from the Velana International Airport and 1km away from the nearest inhabited island, this 5-star beach resort offers over 176 guest rooms ranging from beach cottages to over water villas – all furnished in tropical style with the finest of amenities.
Our private island resort is nestled amidst lush greenery and palm trees encircled by crystal-clear turquoise lagoon – providing the perfect location for our signature facilities and amenities suited for couples, families, and small weddings. Together with 7 unique restaurant and bars, a spa island, snorkeling and water sports on offer, The Sheraton Maldives Full Moon Resort & Spa is an all-round haven of pure relaxation and a playground for your outdoor passions.