ICELAND - WINTER ESCORTED TOUR NOV 2017 - APR 2018
Discover South Iceland's raw nature
Icebergs, hot springs and volcanoes dominate Iceland´s beautiful yet rugged landscape. On a guided coach tour, experience the hidden powers of the island including dramatic vistas of the notorious Eyjafjallajökull volcano and the breathtaking Glacial Lagoon.  With several overnights in stunning rural locations, you'll be perfectly situated to hunt for the magical Northern Lights.
Highlights:
• Walk along the continental rift at Thingvellir National Park (UNESCO site)
• Enjoy freshly baked "hot spring bread"
• Discover the diverse nature along the South Coast of Iceland, with volcanoes, glaciers and waterfalls
• Walk along the banks of the awe-inspiring iceberg Glacial Lagoon
• Uncover the impact and power of recent volcanic eruptions ear Eyjafjallajokull
• Hunting for northern lights in optimal rural locations
• Visit the world-renowned Blue Lagoon
Tour price in US$ per person, TWIN-sharing   (Rates are subject to change)
$1,498           2017 - Nov 02, 07, 09, 14, 16, 30 Dec 07
                      2018 - Jan 11, Feb 01, 15, 22, Mar 01, 08, 13, 22, 29, Apr 03, 05
Inclusions:
• 

2 nights at a hotel in Reykjavík, including breakfast (except on arrival day)

• 

3 nights at countryside hotels, including breakfast 

• 

Guided coach tour from day 2 to day 5

• 

Entrance fee to the Northern Lights Center in Reykjavik

• 

Geothermal bakery experience at Laugarvatn Fontana

• V

isit to the new Lava Centre

• 

Viewing of "Eldmessa" - a short film about the Laki eruption in 1783-1784

• 

Northern Lights hunt kit on Day 3 or 4 (flashlight, blanket & thermos of hot cocoa)

• 

Northern Light guided hunt on foot one selected evening

• 

Northern Lights "wake up call" option during the night (available at countryside hotels)

• 

Blue Lagoon bathing fee 
Sample flight info via THAI AIRWAYS & Icelandair
All-in fare and taxes US$1,525 * Promo fare subject to availability
31JAN  TG 625 K   Manila – Bangkok  2005 2220
01FEB  TG 954 K   BKK-Oslo              0020 0650
01FEB  FI 319   S   OSL-Reykjavik      1335 1525
06FEB  FI 318   S   KEF-OSL               0750 1120
06FEB  TG 955 V   OSL-BKK               1330 0620 
07FEB TG 620  V   BKKMNL                0745 1155
ITINERARIES
Day 1: Arrival in Iceland
Arrival in Reykjavik. Transfer to hotel by Flybus airport shuttle.
Day 2: Thingvellir - Geysir - Gullfoss
Northern Lights Center - National Park with Geological Wonders (UNESCO) - Exploding Geysers - The Famous Golden Falls
Start the day by visiting the recently opened and fascinating Northern Lights Centre in Reykjavik for an exciting and informative presentation on the Northern Lights.
Onwards to Thingvellir National Park (UNESCO World Heritage site) where the world's oldest parliament met for centuries on the shores of Iceland's largest lake.  Drive to Laugarvatn Fontana where your group experiences a geothermal bakery first-hand and digs up bread that has been cooked underground. Sample  the delicious bread, served hot from the ground  and slathered with fresh Icelandic butter.
Continue through farmland areas to the geothermal fields of Geysir with bubbling mud pools and the high-spouting Strokkur hot spring. Last but not least, visit the dramatic two-tiered Gullfoss waterfall, a spectacular sight in winter when frozen mid-cascade.
Overnight in the south coast area.
Included:
- Entrance fee to the Northern Lights Centre in Reykjavik
- Geothermal bakery experience at Laugarvatn Fontana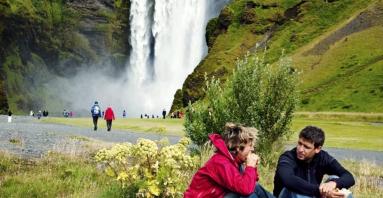 Day 3: South Shore - Eyjafjallajokull Volcano
Waterfalls - Glacial Views - Black Sand Beaches
Drive along the south shore, an area of Iceland that is quite beautiful to view in the winter. This is one of the main farm regions of the country, and the road will pass by typical Icelandic farms, often with Icelandic horses in the fields.  Stop at the spectacular waterfalls Seljalandsfoss and Skogafoss.  Head onwards, passing by Myrdalsjokull Glacier,  to visit Reynisfjara beach.  Take a walk on the black sands, admiring the extraordinary rock formations and thundering waves of the Atlantic Ocean.
Overnight stay and Northern light hunt in Kirkjubaejarklaustur area.
Day 4: Skaftafell National Park - Jokulsarlon Glacial Lagoon
Europe's Largest National Park - Glacial Lagoon with Icebergs - Europe's Largest Glacier
Today enter the area of Vatnajokull National Park, named after Europe'slargest glacier.  This national park is also the largest one in Europe.  The park's Skaftafell region is a site of outstanding natural beauty, dominated by Vatnajokull  glacier. Continue to Jokulsarlon Glacial Lagoon where you can enjoy a breathtaking sight of icebergs floating in the fantastic 180m (591 ft) deep glacial lagoon.
Return to the hotel for dinner and overnight.
Day 5: Volcanic Areas - Hveragerdi - Blue Lagoon - Reykjavik
Greenhouse Village - Thundering Waves - Geothermal Lagoon
Head towards the village of Hveragerdi,  which is one of the few sites in the world located directly on top of a geothermal area. Hveragerdi is often called "the flower village" because of its many greenhouses heated by hot water from nearby springs. Follow along the coastline with its breathtaking sea waves  and through a deserted community that once was a flourishing center for the region.
On to the Reykjanes peninsula, where you can enjoy a dip in the famous Blue Lagoon,  a unique wonder of nature with pleasantly warm,  mineral-rich water in the middle of a black lava field. 
Return to Reykjavik, where the evening is at your own leisure.
Day 6: Departure
Transfer by Flybus shuttle to the airport for your return flight.