Bohol
Bohol, is a province Visayas region, comprising Bohol Island and 70-plus smaller surrounding islands. It's known for its coral reefs, scuba diving, diverse wildlife and unusual land formations. On the main island, near the town of Carmen, are the iconic Chocolate Hills, some 1,200 symmetrical mounds that turn cocoa-brown in the dry season. It is also known for its tarsier, world's smallest primate.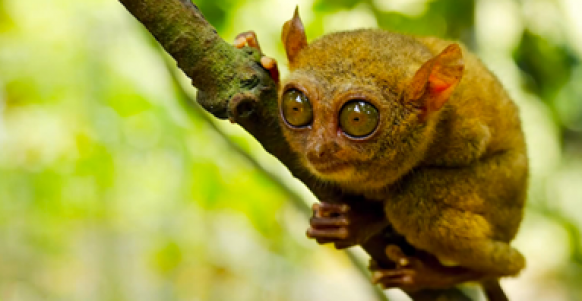 ITINERARIES
BOHOL Package Rates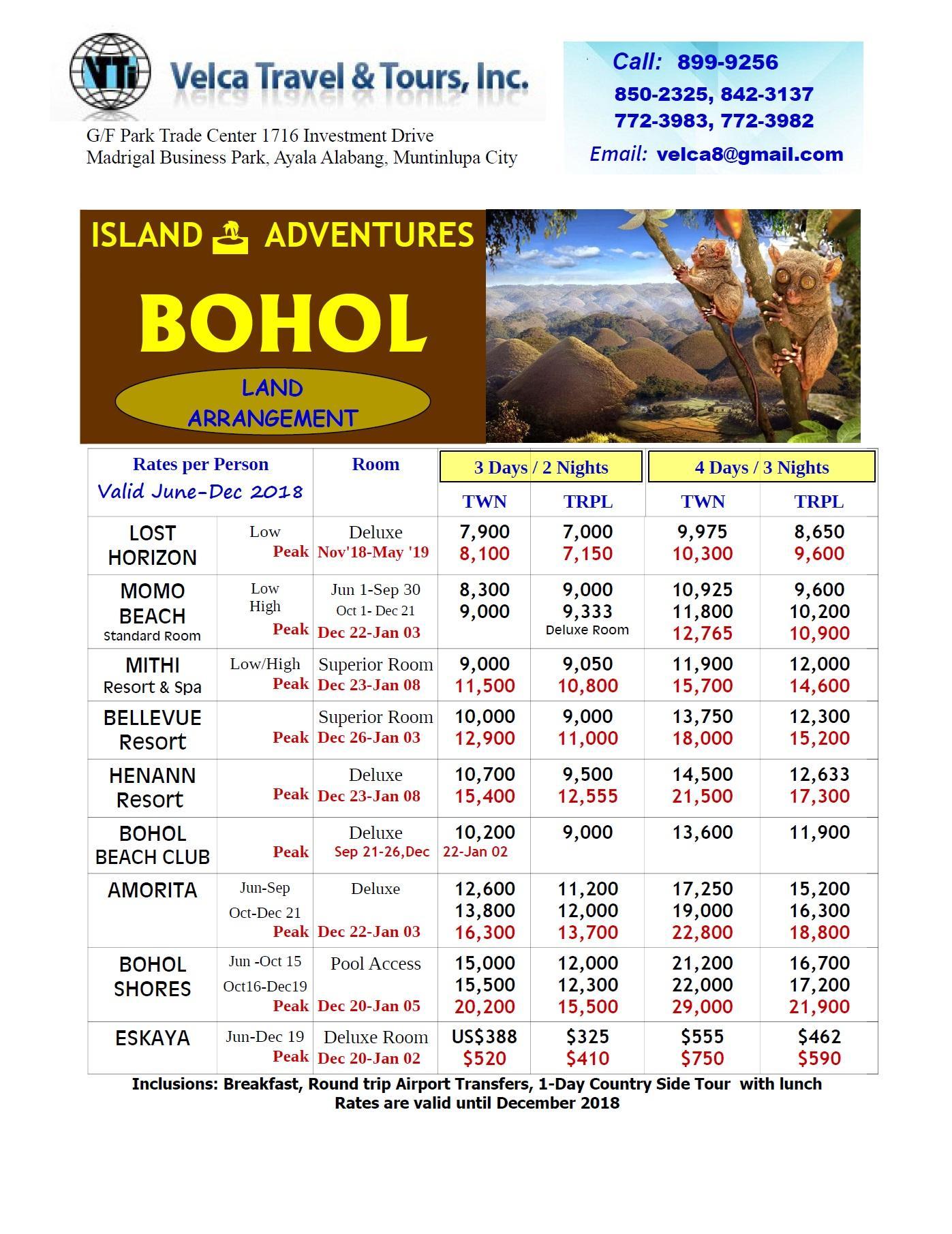 LOST HORIZON RESORT
Lost Horizon Beach resort blends a beautiful setting with traditional Philippine Hospitality to provide a true holiday paradise for our guests. A premier resort with complete amenities. The resort's beautiful beach is over 25 meters of powder white sand, with plenty of sun and shade. Lost horizon Beach Resort rooms are luxurious and spacious with spectacular views of the neighboring islands directly located on the breathtaking South China Sea making it the perfect place to relax and enjoy your next family vacation. You will find the facilities luxurious, clean and modern. You will be ensured that you enjoy your stay at Lost Horizon in the utmost comfort and style.
MOMO BEACH RESORT
Momo Beach House is an eco-chic boutique resort set on the shores of panglao island, bohol. Situated 20 kilometers northeast of famous alona beach, and only a 45-minute drive from Bohol Tagbilaran, Airport. Momo beach house offers stunning seaside and sunset views, nature inspired architecture, delicious al fresco dining at homestyle-inspired
Beach-Tree cafe, and vibrant pastel rooms with eco-friendly amenities.
MITHI RESORT AND SPA
Escape a slice of paradise and experience Bohol's celebrated sights and sounds in the islands most luxurious beach resort. Invigorate your senses amidst lush tropical landscapes embraced by clear, turquiose, water and dazzling white sand beaches. An island to indulge in and relax in world class amenities.
HENANN RESORT
Situated along the famous Alona Beach, this 6.5 hectare property will be compromised of 400 world class rooms, 12 luxury villas, multiple restaurants, luxury spa, a convention center and a 3 state-of-the-art swimming pools. 
BOHOL BEACH CLUB
The Bohol South Beach Club was built in summer 2012 with a goal of bringing the tropical style and buzz of Miami to the island of Bohol. A three storey structure, it is designed, built  and outfitted to the highest standards. Modern and tropical, it is the perfect place for your getaway. The hotel is located a short distance from the Panglao strip (Alona Beach), where you can indulge the evening in the restaurants and clubs, before escaping to the quiet and comfort of Bohol South Beach. The hotel is just minutes by pumpboat from several world classscuba diving sites. Tours to those sites can be arranged by the Hotel Concierge. The hotel shuttle can pick guests from any arrival point, wether airport, ferro port or pumpboat.
BLUEWATER PANGLAO BEACH RESORT
Panglao Bluewater Resort is a popular pick for both business and leisure travellers. Spend the day catching  some rays at Bluewater Panglao Beach Resort's private white sand beach, relaxing by one of the resorts 2 outdoor swimming pools, or pampering yourself at the full-service spa.
AMORITA
Amorita, which means my little darling, is a Beach Resort in Panglao Island, Bohol, located at the scenic end of Alona Beach. Amorita is the ideal destination for private and intimate escapes making it perfect for weddings, honeymoons, and families. It boasts a Two sleek infinity pools with dramatic views of vibrant Alona Beach and the Bohol Sea, Sea Tree Spa -- where refinement, skill  and healing touch, meet the best in Filipino body work Saffron restaurant that offers a thoughtful reinterpretation of Boholano heritage cuisine alongside a wide range of Filipino and Continental food favorites. 
BOHOL SHORES
As you discover Bohol, take pleasure of Bohol Shores at the beautiful island of Panglao offering a taste of paradise with the service and facilities we heartily dish-out. Bohol Shores offers 40 exquisite contemporary Villas that will give you a complete escape with incomparable relaxation. Enjoy the majestic 2,500 square meter beach pool; wine and dine at our restaurant, café or bar; have an adventure as you pick from any of our numerous available water sports activities; laze under the sun and be caressed by the Bohol breeze
ESKAYA RESORT
Eskaya Beach Resort & Spa is a beautiful resort-spa in Panglao Island. It is located halfway through Panglao along its coast facing Bohol Sea. It is a sprawling property which covers 16 hectares. Topography of the resort is varied. It has a gradually descending cliff, flat land, a ravine, caves and has a commanding view of the sea. On the higher ground of the resort, you can view a mountain with lush vegetation. Down the beach is a long stretch of white, powdery sand up to 5 kilometers, 600 meters of which is part of Eskaya Beach Resort & Spa. The name Eskaya refers to the only known indigenous people of Bohol. The resort is boutique in style which accounts for its exclusivity. Architecture of the building is decidedly Filipino with a splash of modern amenities.